Whether you're celebrating a birthday, or wedding, or just hosting a get-together with friends, the right party decorations can take your event to the next level. From underwater themes to a rustic charm, there's a party decoration idea for everyone. In this article, we'll explore some of the top trending party decoration ideas, including ideas of DIY party decorations that will help you save money while still creating a memorable event. So, let's dive in and start planning your perfect party!
Make a Splash with Underwater-Themed Party Decorations
An underwater-themed party is perfect for any ocean lover, young or old. Transform your event space into a magical underwater wonderland with these party decoration ideas:
1. Ocean-inspired table settings
Use blue tablecloths, plates, and cups to create an oceanic atmosphere. Add seashell-shaped plates or bowls and fish-shaped serving platters for a unique touch.
2. Fishnet and seashell decorations
Hang fishnets from the ceiling or walls and fill them with seashells, starfish, and other ocean-inspired trinkets.
3. DIY jellyfish lanterns
Create your own jellyfish lanterns by attaching long strips of tissue paper or ribbon to the bottom of the paper lanterns. Hang them from the ceiling to create an enchanting underwater effect.
Get Creative with DIY Floral Arrangements for Your Party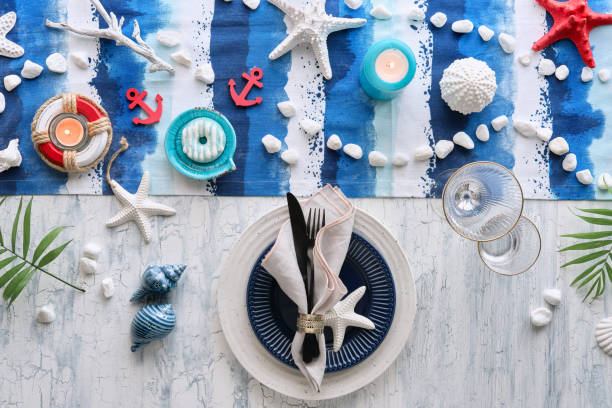 Flowers are a classic party decor that can add elegance and beauty to any event. Try these DIY floral arrangement ideas to create stunning centerpieces and accents for your party:
4. Mason jar flowers arrangements
Fill mason jars with water and add your favorite flowers for a simple, rustic centerpiece. Tie a ribbon around the jar for a charming finishing touch.
5. Floating flowers centerpieces
Fill clear glass bowls or vases with water and float a few flowers or petals on the surface. Add floating candles for a romantic touch.
6. Flowers garlands
String together fresh flowers or petals to create beautiful garlands that can be used to decorate tables, chairs, or walls.
Create a Magical Atmosphere with Fairy Lights and String Lights
Fairy lights and string lights are versatile party decoration ideas that can add a touch of magic to any event. Try these ideas to incorporate lights into your party decorations:
7. Lighted centerpieces
Place battery-operated fairy lights inside glass jars or vases and fill them with flowers or other decorative elements. The lights will create a beautiful glow and make your centerpieces stand out.
8. Light curtains
Hang strings of lights vertically from the ceiling or walls to create a stunning backdrop for photos or a dramatic entrance to your event space.
9. Outdoor twinkle lights
If your party is outdoors, wrap string lights around trees or drape them across a patio or pergola to create a warm and inviting atmosphere.
Personalize Your Party with Customized Banners and Signs
Add a personal touch to your fun party by creating customized banners and signs. Use these ideas as inspiration:
10. DIY letter banners
Create your own letter banners using cardstock, stencils, and ribbon or string. Spell out a message or the guest of honor's name for personalized decor.
11. Chalkboard signs
Use chalkboard paint to create signs with custom messages or illustrations. Place them around your event space to guide your friends or convey important information.
12. Photo banners
Print out favorite photos of your friends or images related to the party theme and string them together to make a unique banner that tells a story of the memorable party time.
Host a Rustic-Themed Party with Natural Materials and Textures
A rustic-themed party evokes a warm, cozy atmosphere that's perfect for casual gatherings. Use these fun party decoration ideas to create a charming, rustic event:
13. Burlap and lace
Incorporate burlap and lace into your food table settings, chair covers, or banners for a rustic-chic look.
14. Wood accents
Use wooden crates, pallets, or slices as serving platters, centerpieces, or signage for a natural, earthy touch.
15. Greenery and foliage
Incorporate fresh greenery and foliage into your decorations, such as wreaths, garlands, and centerpieces, for an organic, rustic feel.
Incorporate Metallic Accents with Gold, Silver, and Bronze Decorations
Add a touch of glamour to your event with metallic accents in gold, silver, or bronze. Consider these party decoration ideas for a sophisticated look:
16. Metallic table settings
Choose plates, utensils, and glassware with metallic accents to create a luxurious dining experience for your guests.
17. Glittery centerpieces
Create dazzling centerpieces with the metallic vase, candle holder, or glitter-covered ornament.
18. Metallic balloons
Choose gold, silver, or bronze balloons to create eye-catching arrangements or a balloon garland for your event space.
Go Bold with Bright and Colorful Balloons Decorations
Balloons are classic party decorations that can be easily customized to suit any theme or color scheme. Try these ideas to make a statement with balloons:
19. Balloon arches
Create stunning balloon arches using various sizes and colors of balloons. Place them at the entrance of your event space, over a food table, or as a photo backdrop for a dramatic effect.
20. Balloon bouquets
Group together balloons in coordinating colors and attach them to a balloon weight or centerpiece for a simple yet striking decor.
21. Confetti balloons
Fill clear balloons with colorful confetti for a fun and festive touch. Pop the balloons at the end of the party for a memorable finale.
Add a Touch of Glamour with Sequins and Glitter Party Decorations
Elevate your party decor with the addition of sequins and glitter. These shiny accents will make your event sparkle and shine:
22. Sequin tablecloths
Cover your tables with sequin tablecloths or runners for an instant touch of glamour.
23. Glitter-dipped decorations
Add sparkle to your party by dipping items like glassware, vases, or ornaments in glitter.
24. Sequin backdrops
Create a dazzling photo backdrop by hanging a sequin curtain or fabric on a wall or backdrop stand.
Create a Sophisticated Look with Black and White Party Decorations
A black and white color scheme is a timeless and elegant choice for any event. Use these party decoration ideas to create a classy ambiance:
25. Black and white table settings
Choose black and white dinnerware, linens, and centerpieces for a sophisticated dining experience.
26. Monochrome balloons
Create balloon arrangements or garlands using only black, white, and gray balloons for a chic and modern look.
27. Black and white photos
Display black and white photos of the guest of honor or images related to the party theme as decorations or centerpieces.
Celebrate in Style: Unique and Whimsical Party Decoration Ideas
For a truly one-of-a-kind event, consider these unique and whimsical party decoration ideas:
28. Paper lanterns
Create a whimsical atmosphere by hanging colorful paper lanterns from the ceiling or stringing them across your event space.
29. Origami decorations
Craft origami animals, flowers, or other shapes to use as decorations or centerpieces. Use paper in colors that match your party theme.
30. Novelty lights
Choose string lights or lamps in fun shapes, like flamingos, pineapples, or stars, to add a playful touch to your party decor.
Creative Ideas for DIY Party Decorations on a Budget
You don't need to spend a fortune to create a memorable event. Try these budget-friendly DIY party decoration ideas:
31. DIY photo booth
Set up a DIY photo booth using a simple backdrop and props made from cardboard, paper, hot glue, or other materials you have on hand.
32. Handmade banners and garlands
Create your own banners and garlands using paper, fabric, or other materials for a budget-friendly decoration that matches your party theme.
33. Upcycled decorations
Repurpose items like tin cans, glass jars, or old picture frames as unique and budget-friendly party decorations.
Themed Party Decoration Ideas for Different Occasions
Choose a theme that reflects the interests of the guest of honor or the occasion itself. Here are some themed party decoration ideas for various events:
34. Vintage-inspired parties
Decorate with antiques, lace, and soft pastel colors for a vintage-inspired celebration.
35. Tropical luau
Create a tropical paradise with palm leaves, tiki torches, and vibrant floral arrangements.
36. Hollywood glamour
Roll out the red carpet and decorate with gold accents, velvet fabrics, and movie-themed decorations for a Hollywood-inspired event.
DIY Photo Booth Props and Signs
A photo booth is a fun and interactive way for guests to capture memories at your party. Here are some ideas for DIY photo booth props and signs:
37. Themed props:
Craft props that match your party's theme, such as masks, hats, or speech bubbles with themed phrases.
38. DIY frames:
Create your own photo frames using cardboard, foam board, or even pool noodles. Decorate the frames with paint, glitter, or other embellishments to match your party's color scheme.
39. Custom signs:
DIY Design signs with fun phrases, party-specific hashtags, or even the guest of honor's name. Guests can hold the signs in their photos for a personalized touch.
Nicro: A Decade of Crafting Custom Party Decor & Supplies
For over a decade, Nicro has been crafting custom party decorations and supplies for events of all kinds. As a specialized manufacturer and exporter, Nicro produces high-quality handcrafted products including banners, garlands, lanterns, and other decorations for festival parties, birthday parties, wedding parties, and more.
Nicro has the experience and capabilities to create great party decor for any theme your customers desire. Our team of talented designers can produce one-of-a-kind pieces to transform their venue into a wondrous space that matches their unique vision. Whether your customers want to go whimsical, rustic, bohemian, or formal, Nicro will work with you directly to bring their party theme to life.
Nicro produces high-quality decorations using popular styles, shapes, and materials tailored to the big trends of party decoration. In addition to our custom design services, we also offer pre-designed decor and supplies for different themed parties.
Contact Nicro to get Party Decoration for Every Themed Party Now!
Conclusion:
party decorations are essential to setting the perfect mood and bringing your themed celebration to life. By choosing decor that incorporates the latest trends and suits your personal tastes, you can create an event that leaves a lasting impression. And for custom pieces made to order, Nicro is the premier source for handcrafted party decorations, supplies, and accents that dazzle for any occasion. Contact us today!