Bridal showers are undeniably one of the most exciting pre-wedding events. It's a beautiful occasion to shower the bride-to-be with love, well wishes, and of course, gifts! But to make the event truly memorable, the right decor is crucial. Here are 8 bridal shower decoration ideas, including a beautiful bridal shower banner, to help you create a unique and unforgettable ambiance.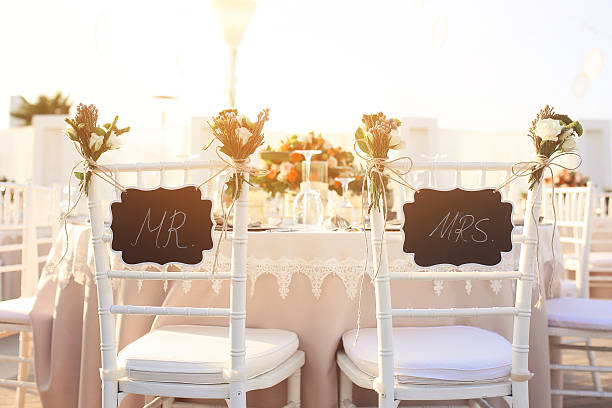 How to Decorate for a Bridal Shower?
Decorating for a bridal shower is a wonderful way to create a beautiful and festive atmosphere. Here are some tips to help you decorate for a bridal shower:
Choose a theme
Garden Party
Beach or Tropical
Masquerade
Disney
Etc
Set color scheme
Pastel: Light and airy colors like mint green, lavender, and baby blue
Bright and Bold: Vibrant and saturated colors like hot pink, turquoise, and orange
Romantic: Soft shades of blush, ivory, and gold
Create a focal point
Dessert or Gift Table
Photo Booth
Table settings
Table Linens
Votive Candles
Decorative Napkin Rings
Centerpieces
Floral ArrangementsCandlesLanterns
Backdrops or photo booth
Flower Wall
Balloon Arch
Fabric or Curtain Backdrop
DIY Photo Booth Props
Lighting
Chandeliers or Pendant Lights
String Lights
Personalized touches
Customized Invitations
Photo Display
Advice or Wish Jar
Balloons and banners
Confetti Balloons
Hanging Balloon Garland
Pennant Banners
Photo Banners
Most people look forward to getting a unique bridal shower, but they may also lack time to prepare due to time reasons. These consumers have a wide range of needs, so consider some bridal shower decoration kits to help reduce unnecessary trouble. NICRO, as an all-in-one party supplies company, has rich experience, not only providing various styles of decorations but also can customize production and providing high-quality products. To know these questions, be sure to contact NICRO for more details and to get a quotation.
Unique Bridal Shower Decor Idea: Personalized Photo Booth Backdrops
A photo booth is a fun and interactive way for guests to create memories at the bridal shower. With a little creativity, you can design a personalized backdrop that reflects the theme of the event or the personality of the bride. Here are a few ideas:
Balloon Wall
Balloons are an affordable and versatile option for a photo booth backdrop, especially for a wedding shower. Not only are they colorful and fun, but they also add a touch of whimsy and greenery to any celebration. For an extra personal touch, consider spelling out the bride's name or initials with balloons or incorporating her favorite colors. This balloon wall will not only provide a vibrant and eye-catching backdrop for photos but also serve as a focal point that reflects the bride's unique personality.
Floral Backdrop
Flowers always make a beautiful backdrop for any occasion, and your bridal shower is no exception. A floral backdrop can add a touch of elegance and romance to your photo booth. There are two ways to create a floral backdrop: you can either use fresh flowers or faux florals. If you choose fresh flowers, select blooms that are in season and complement the color scheme of your vintage bridal shower. For a touch of glamour, consider using rose gold accents in your floral arrangements or as part of your photo booth props. Paris is a great location for a vintage bridal shower with its romantic atmosphere and beautiful scenery. A honeymoon in Paris is also a popular choice for newlyweds looking for a romantic getaway.
Thematic Backdrop
If your themed bridal shower has a specific party theme, incorporate it into your photo booth backdrop. For example, if you're hosting a garden party-themed shower, you could create a backdrop featuring a garden scene complete with flowers and greenery. You can add potted plants or hang flower garlands on the sides or corners of the backdrop to bring a natural feel. Another great idea is to have a tea party-themed shower, where you can create a backdrop featuring vintage teacups and saucers, teapots, and floral arrangements.
Add Flair to Your Bridal Shower Decoration Ideas: Crafty Hanging Decorations
Hanging decorations can add a dramatic effect to the event venue. They draw the eye upwards and provide a sense of depth and dimension. Here are a few DIY hanging decor ideas using string lights:
Paper Lanterns
Paper lanterns are a fantastic way to add a whimsical and colorful touch to your wedding party favors. They are not only easy to make but also budget-friendly. You can customize them to match the color scheme or theme of your event. For a beach-themed wedding, consider using shades of blue, turquoise, and white paper lanterns to mimic the colors of the ocean. You can even add some decorative elements like seashells or starfish cutouts to give them a coastal charm. Another great way to add a touch of elegance to your wedding is by incorporating a floral garland. If you're looking for some fun activities to do at your bridal shower, consider playing some bridal shower games to keep your guests entertained.
Hanging Flowers
Take your wedding decor to new heights by creating a "garden in the air" with hanging flowers. This unique decoration will undoubtedly wow your guests and create a romantic ambiance. Choose flowers that complement your color scheme and theme, such as vibrant tropical blooms or soft pastel roses for a romantic garden-inspired wedding. Add some pearls to the hanging flowers to give them a touch of elegance and sophistication. If you're planning a rustic bridal shower, consider using wildflowers or sunflowers for a more natural and relaxed feel.
Chandeliers
Elevate the elegance of your wedding venue by creating your own chandeliers. Not only will they add a touch of sophistication, but they will also be a unique and personalized statement piece. Get creative with materials like beads, crystals, or even recycled wine bottles. For a beach-themed wedding planning, consider using seashells or mother-of-pearl beads to create a coastal-inspired chandelier. NICRO is a great place to find unique and affordable party supplies for your chandelier project.
Creative Bridal Shower Decoration Ideas: Charming Table Settings
When it comes to bridal shower decor, table settings and table decorations play an essential role in setting the tone for the event. They are the first thing your guests notice when they walk in. Here are some creative ideas to make your tableware settings and place cards with unique table numbers stand out:
Eclectic Mix-and-Match Place Settings
Instead of going for a uniform look, mix and match different elements to create a unique look for each setting. This could include mismatched plates, glasses, and cutlery, adding an element of surprise and a touch of personality to the tables.
Personalized Napkins
Why not add a personal touch to the table with customized napkins? You can print the bride's initials or the wedding date on them for an added personal touch. For bridal shower favors, personalized napkins with macarons are a great option to consider.
DIY Flower Arrangements
Instead of spending big on professional floral arrangements, try your hand at creating your own. You can buy fresh blooms from a local market and arrange them in a unique way using burlap to create beautiful table centerpieces with floral arrangements.
Special Bridal Shower Decoration Ideas for Seat: Creative Chair Decor
The chairs at your bridal shower are not just for seating—they're also an opportunity to add a decorative touch. Here are some creative ideas to dress up the chairs:
Chair Sashes
To add a touch of elegance and sophistication to your wedding party, consider incorporating chair sashes into your decor. Chair sashes are versatile and can be made from various fabrics such as organza, satin, or lace. To create a vibe of luxury, consider adding embellishments like flowers, brooches, or decorative buckles to the chair sashes. These embellishments can be in the same color as your sashes or in contrasting colors to create visual interest. For bridal shower decorations, chair sashes can be a great addition to the overall decor.
Chair Covers
To add a touch of elegance and sophistication to your wedding party, consider incorporating chair sashes into your decor. To take it a step further, consider adding embellishments like flowers, brooches, or decorative buckles to the chair sashes. These embellishments can be in the same color as your sashes or in contrasting colors to create visual interest.
Chair Signs
To add a personal and intimate touch to your wedding, consider creating personalized chair signs for the bride and groom. Chair signs are a charming way to designate the special seats for the couple and can be customized with their names or endearing phrases like "Bride-to-be" and "Groom-to-be".
Bridal Shower Decoration Idea for Venue: Elegant Garlands
Garlands are a classic decoration that can add a touch of elegance to any event venue. They're versatile and easy to make. Here are some garland ideas:
Paper Flower Garlands
From dainty roses to cheerful daisies, the possibilities are endless. Experiment with different types of paper, such as crepe paper or handmade paper, to add texture and depth. Whether you opt for a monochromatic color scheme or a bold mix of hues, paper flower garlands are a budget-friendly way to infuse your bridal shower with enchanting floral vibes.
Bunting Garlands
Create a personalized and meaningful atmosphere at your bridal shower with charming bunting garlands. These simple yet eye-catching decorations have stood the test of time and remain a beloved choice for bridal shower decor. What makes bunting garlands so special is their ability to be customized to reflect the bride's personality and love story. You can easily create your own bunting by cutting out triangular flags from colored paper or fabric. Add even more personalization by writing heartfelt messages or showcasing cherished images on the flags.
Fabric Garlands
This project allows you to incorporate different textures, patterns, and colors that perfectly align with your theme. From delicate lace to sparkling sequins, the choices are endless. Mixing and matching different fabrics creates a stunning layered effect, giving your garland a unique and personalized touch. Hang these fabric garlands from walls, archways, or tables to instantly elevate the visual appeal of your bridal shower.
Warming Bridal Shower Decoration Ideas: Candlelit Lanterns
Candles can create a warm and intimate atmosphere, making them a great addition to your bridal shower decor. Here are some ideas:
Mason Jar Lanterns
Take your bridal shower decor to the next level by utilizing mason jar lanterns to create a cozy and rustic atmosphere. Fill each jar with a small candle or LED light to create a warm and inviting glow. The soft flickering light and subtle embellishments of these mason jar lanterns will infuse your bridal shower with an undeniable sense of intimacy and rustic elegance.
Paper Bag Lanterns
Transform your bridal shower venue into an enchanting wonderland with the ethereal glow of paper bag lanterns. The soft and flickering candlelight shining through the paper bags will cast an enchanting glow, creating an atmosphere that is both intimate and soothing for your bridal shower guests.
Hanging Lanterns
Opt for lanterns of different shapes, sizes, and materials to create a dynamic and eye-catching effect. You can choose lanterns made of metal, wood, or even alternative materials such as glass or fabric. To add a touch of personalization, consider placing LED candles or fairy lights inside the lanterns for a safe and long-lasting glow.
Balloon Decoration Idea: Whimsical Balloon Art
Balloons are a staple at any celebration, and your bridal shower is no exception. They're versatile and affordable. Here are some whimsical balloon art ideas:
Balloon Arch
A balloon arch is not only a visually captivating decor element but can also serve as a beautiful and inviting focal point for your bridal shower. With its versatility, a balloon arch can be placed at the entrance of your venue, welcoming guests with a burst of color and whimsy. Alternatively, you can position it as a stunning backdrop for memorable photos, ensuring every snapshot captures the joy and excitement of the occasion.
Balloon Centerpieces
For a touch of enchantment, fill clear balloons with confetti or glitter that complements your bridal shower theme. Attach these sparkling balloons to decorative weights and place them in the center of each table. Another creative idea is to tie these dazzling balloons to a basket or vase filled with fresh flowers, effortlessly blending vibrant colors and textures.
Balloon Messages
Let your bridal shower be filled with heartfelt messages and wishes for the bride by incorporating balloon messages into your decor. Provide guests with markers and small balloons, and encourage them to write their well wishes or words of love and encouragement for the bride-to-be. Once the balloons are filled and tied, release them into the venue, allowing these beautiful messages to float around and fill the space with love and positivity. This interactive activity not only provides a heartfelt surprise for the bride but also allows your guests to participate and express their joy and excitement for her special day.
Personalized Bridal Shower Decoration Ideas: Bridal Shower Signs
Signs are a great way to add a personalized touch to your bridal shower. They can be used to welcome guests, direct them to different areas, or convey messages to the bride. Here are some ideas:
Welcome Sign
Create a personalized welcome sign to greet your guests and set the tone for your bridal shower. Get creative with your design by incorporating the bride's name, the date of the event, or a sweet message that reflects the theme or sentiment of the celebration. Consider using calligraphy or decorative fonts to make the sign feel extra special.
Directional Signs
To ensure that your guests can easily navigate the different areas of your bridal shower venue, create stylish directional signs that not only serve as practical guides but also enhance the overall decor. Consider using a cohesive and visually appealing design that matches the theme of your bridal shower.
Message Board
Turn your bridal shower into a heartfelt and interactive experience with a beautifully adorned message board. Provide guests with an array of stationery, including pens, markers, and various colored cards or paper cutouts. Encourage them to write personalized messages, wishes, or advice for the bride. The message board can be customized to match your bridal shower theme by using themed embellishments like lace, floral accents, or elegant frames. Hang the message board in a prominent area of the venue, ensuring that guests can easily find it and take a moment to share their love and support for the bride.
Perfect Party for Bride
Planning a bridal shower can be a daunting task, but it's also an opportunity to showcase your creativity. With these bridal shower decoration ideas, you can create a unique and memorable event that the bride and her guests will cherish. Remember, the most important thing is to have fun and create an event that reflects the bride's personality and tastes. Happy planning!