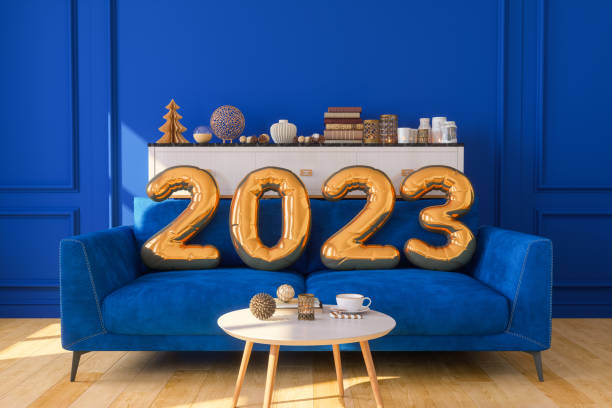 Setting the Scene: Essential Tips for Creating a Festive Atmosphere
Let's get this show on the road! Holidays are a magical time of the year, and there's no better way to celebrate than with a good ol' holiday party. Let's establish a perfect ambiance by decking the halls with boughs of holly, mistletoe, and a well-decorated tree to achieve a delightful holiday spirit. Throwing in some festive garlands, glittery wreaths, and cinnamon-scented candles will ensure an enchanting atmosphere.
Don't forget the music—holiday tunes are an all-time must. From classic Christmas carols to modern remixes, playing a variety of festive songs sets the right mood. And if there's a spot for a fireplace or fire pit, nothing compliments a cozy atmosphere more than the sound of crackling logs or festive string lights for a magical touch.
Whether you're planning a kids' party, a sophisticated soirée for tweens, or an adult gathering, every celebration needs that extra sparkle to make it unforgettable. Setting the scene for your holiday party is the first step to creating wonderful memories for everyone involved.
Kid-Friendly Holiday Party Ideas: Engaging Themes and Activities for Little Ones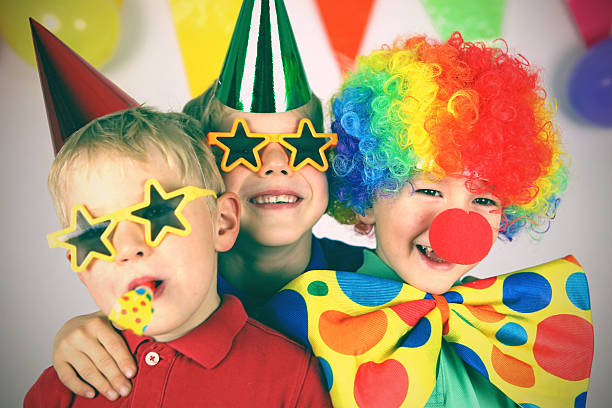 | | |
| --- | --- |
| North Pole Adventure | Transform your party space into Santa's North Pole workshop, complete with elves and reindeer. Organize activities like "decorate your own stocking" and "create your own Christmas ornaments" that kids will absolutely love. Don't forget to have Santa Claus make a surprise appearance, ready to take photos and listen to kids' wish lists. |
| Gingerbread Wonderland | Create a world of gingerbread for this kid-friendly party theme. Set up a gingerbread house decorating station with pre-assembled houses or graham cracker alternatives, and provide assorted candies, frostings, and embellishments for little ones to work their magic. Add gingerbread-themed games, such as a gingerbread man scavenger hunt or a tasty cookie decorating contest. |
| Frosty's Snowy Playland | Perfect for those who adore snow and winter fun, this theme incorporates everything frosty and snowy. Have a faux snowball fight indoors using soft plush balls, or make your own snow dough for a fun sensory play experience. You can also play snow-themed games like "pin the carrot nose on the snowman" or hold a snowman-making competition using cotton balls or white socks. |
| Christmas Carnival | Recreate the fun of a carnival in your own home with a holiday twist. Arrange various game stations like a holiday-themed ring toss using candy canes or an elf hat throwing game. Create a simple DIY photo booth with a Christmas backdrop, props, and costumes. Top it off with a menu filled with finger foods, hot chocolate, and carnival treats like popcorn, cotton candy, and small-sized pretzels. |
Tween-approved Party Themes: Combining Fun and Sophistication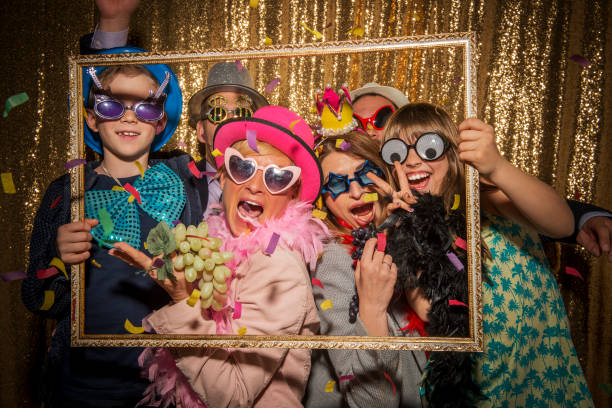 | | |
| --- | --- |
| White Winter Wonderland | Curate a magical atmosphere with an all-white color palette, creating a snow-dusted dreamland. Use faux snow, snowflakes, and twinkling white fairy lights to set up the atmosphere. Organize fun activities like DIY snow globe making, a winter-themed trivia game, and a white-themed dress code for an extra festive touch. |
| Holiday Pajama and Pancake Party | Invite the tweens to come wearing their most festive, cozy pajamas to create a relaxed and enjoyable atmosphere. Prepare a pancake bar with a variety of toppings such as whipped cream, chocolate chips, sprinkles, and fruits. Incorporate holiday-themed pancake shapes or offer cookie cutters for them to create their own pancake art. Add some engaging activities like customizing their own pair of holiday socks or sharing their favorite wintertime stories. |
| Christmas Around the World | This theme is perfect for tweens eager to learn about diverse cultures and celebrations. Decorate the party area with flags, maps, and festive items from different countries. Plan activities such as ornament making using inspiration from global holiday customs, or hold a potluck-style dinner where guests bring dishes from different countries. This party theme promises a well-rounded, educational, and incredibly fun experience for the tweens. |
| Hollywood Holiday | Give your party a touch of glamour by hosting a Hollywood-inspired holiday event. Encourage tweens to dress up as their favorite holiday movie characters or wear festive, elegant attire for a movie premiere. Decorate the party area with a red carpet, paparazzi posters, and twinkling golden lights. Set up a karaoke machine for a Christmas sing-along or hold a movie soundtrack guessing game. This theme allows tweens to indulge in a cinematic experience while celebrating the holiday spirit. |
Teen-Centric Holiday Parties: Balancing Festivities with Trendy Ideas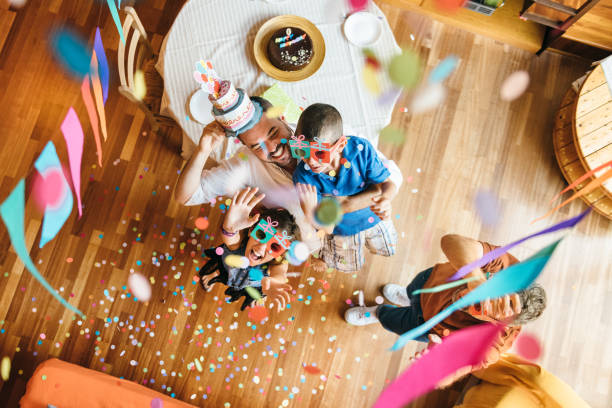 | | |
| --- | --- |
| Christmas Costume Party | Invite teens to dress up as their favorite Christmas characters, from Santa and his elves to reindeer and Frosty the Snowman. Create a festive atmosphere with whimsical holiday decorations, and host a costume contest with categories like "most creative" and "funniest costume." Include fun activities like a holiday trivia game and a festive dance party playlist for the perfect balance of entertainment. |
| Cozy Cabin-Themed Gathering | Bring the comfort and warmth of a rustic winter cabin to your teen-centric holiday party. Decorate with woodsy elements, twinkling lights, and cozy faux fur blankets for seating. Serve hot cocoa and s'mores alongside a bonfire or indoor fireplace, and plan engaging activities like marshmallow roasting, storytelling, and a "build-your-own" blanket fort. |
| DIY Holiday Craft Party | Inspire creativity with this theme by setting up a variety of holiday craft stations. Encourage teens to create DIY gifts, ornaments, or festive room decorations. Some activity ideas include making scented candles, designing their own custom holiday mugs, and painting festive phone cases. To keep the good times rolling, have a holiday music playlist and some finger foods for everyone to enjoy. |
| Holiday Game Night | Bring everyone together for a fun-filled evening of classic board games with a holiday twist. Customize some of the teens' favorite games, or introduce new ones with a festive theme. You could set up a game of Christmas charades, a holiday-themed Pictionary contest, or the ultra-fun White Elephant gift exchange. Don't forget to provide themed snacks and drinks to keep your guests entertained throughout the night. |
Adult Holiday Gatherings: Celebrations to Unwind and Connect with Friends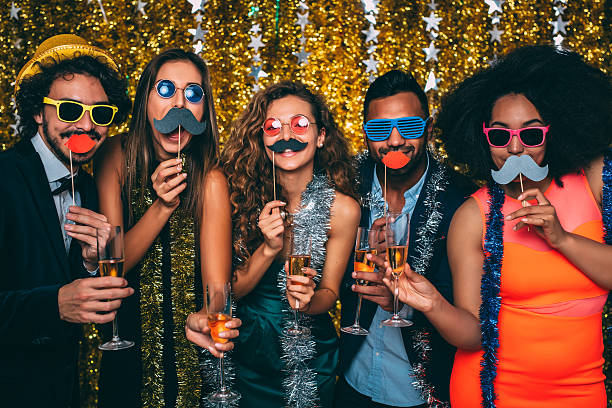 Adults-only holiday gatherings can be sophisticated and entertaining at the same time!
| | |
| --- | --- |
| Jingle and Mingle | Host a sophisticated cocktail party where guests can mingle, enjoy festive drinks, and indulge in delicious appetizers. Set the ambiance with elegant decorations such as fairy lights, flowers, and candles. Consider adding a signature holiday cocktail, like a Cranberry Fizz or White Christmas Sangria. Create a cozy atmosphere with soft background music, or hire a jazz band or pianist to perform holiday classics. |
| Murder Mystery Dinner Party | Give your adult holiday gathering a thrilling twist by organizing a Christmas-themed murder mystery night. Send out invitations with character assignments and dress code instructions. Set up your party area to resemble a mysterious scene, and tailor your dinner menu to match the theme. Follow the script throughout the night, and let guests mingle as they try to crack the case. |
| Vintage Christmas Party | This nostalgic theme celebrates the charm of classic holiday celebrations. Encourage your guests to wear vintage or retro-inspired holiday attire and decorate your space with old-fashioned ornaments, antique Christmas cards, and memorabilia. Set a menu that includes classic holiday dishes and cocktails to accentuate the retro vibe. For entertainment, consider hosting a Christmas record swap or play timeless carols on a vintage record player. |
| Progressive Holiday Party | Bring your friends together for this memorable event that spans multiple venues over an evening. Begin at one host's home for appetizers and drinks, then move on to different homes or locations for dinner, dessert, and games. Collaborate with friends to decide on a theme for each location, create festive menus, and plan activities. This theme allows your guests to experience a variety of holiday atmospheres and flavors, all in one delightful evening. |
Inter-generational Holiday Bash: Ideas for a Fun and Inclusive Celebration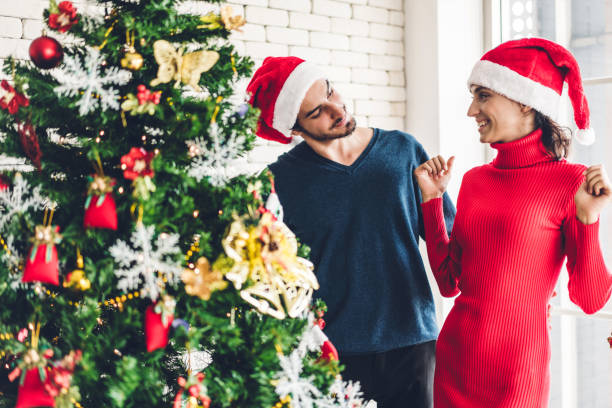 Let's talk about parties for everyone – kids, tweens, teens, and adults alike.
| | |
| --- | --- |
| Christmas Karaoke Night | Gather all your family members to sing along to everyone's favorite holiday tunes. With a mix of timeless classics and popular modern hits, there'll be something for everyone to enjoy. Set up a karaoke machine and let the lively performances begin! To spice up the event, create a friendly competition with teams representing different generations. |
| Winter Potluck and Talent Show | Encourage every guest to bring a special dish, showcasing family recipes across generations. Hosting a talent show encourages the inter-generational sharing of skills and talents. Create a staging area and let your guests perform music, poetry, dance routines, or other acts. This theme offers an opportunity to bond over food and appreciate family talents. |
| Holiday Crafts Workshop | Set up stations with holiday crafts and activities that cater to various age groups, such as decorating cookies, creating ornaments, or knitting Christmas stockings. Pair the young and old together to exchange wisdom, stories, and crafting tips while working on their respective projects. It's an excellent way for different generations to bond and share their skills while creating unique keepsakes. |
| Memory Lane | Create a "Walk down Memory Lane" theme where everyone contributes family photos, memorabilia, heirlooms, and stories to treasure. Display the photos and items around the party area, and create an atmosphere for everyone to reminisce. Guests can take turns sharing their favorite holiday traditions or memories from past celebrations. Celebrate your family's history, rediscover old anecdotes, and create new memories together. |
Holiday Movie Night Extravaganza: Film Selections for All Ages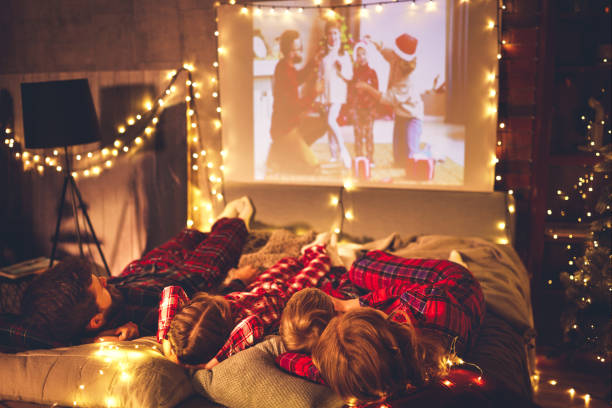 A holiday movie night brings together families and friends effortlessly. Select a mix of tunes catering to various age groups and preferences.
| | |
| --- | --- |
| Retro Christmas Classics | Throw a movie night extravaganza featuring beloved old-time classics such as "It's a Wonderful Life," "A Christmas Carol," and "Miracle on 34th Street." Create a vintage-inspired atmosphere with antique decorations and nostalgic treats like popcorn served in retro boxes, hot mulled cider, and old-fashioned candy canes. |
| Animated Christmas Flicks | Delight guests of all ages with a selection of family-friendly animated holiday movies. The lineup could include classics like "A Charlie Brown Christmas," "Rudolph the Red-Nosed Reindeer," and "Frosty the Snowman," as well as newer favorites like "The Polar Express," "Arthur Christmas," and "Klaus." Set out themed snacks and beverages, such as character-shaped cookies and holiday punch to enjoy during the show. |
| Magical Christmas Adventure | Transport your guests to an enchanted, festive world with movies focusing on Christmas adventure and magic, like "The Nutcracker and the Four Realms," "The Santa Clause," and "The Chronicles of Narnia: The Lion, the Witch, and the Wardrobe." Add an air of enchantment to your party space with twinkling lights, themed decorations, and a magical punch or hot cocoa bar. |
| Christmas Comedy Marathon | Bring laughter to your holiday party with a lineup of light-hearted Christmas comedies. Feature films like "Elf," "Home Alone," "National Lampoon's Christmas Vacation," and "A Christmas Story" guarantee a fun night filled with giggles. Set up a cozy viewing area with floor cushions, and blankets, and create a menu of playful snacks and beverages, such as themed popcorn or Christmas-colored mocktails. |
Comprehensive Checklist for Holiday Party Supplies Catering to All Ages
No matter the theme or age group, organizing a successful holiday party involves having essential party supplies on hand. Here is a simple, all-encompassing checklist that will help you plan for guests of all ages:
| | |
| --- | --- |
| Invitations | Create and send out festive invitations with clear details about the event's date, time, location, dress code, and any specific instructions regarding food or gifts, if applicable. |
| Decorations | Prepare decorations that are suitable for all ages, such as Christmas tree ornaments, garlands, wreaths, festive table settings, and holiday-themed centerpieces. Include fairy lights or candles for an added touch of warmth and festivity. |
| Disposable Tableware | Depending on the number of guests and the type of food served, ensure you have an adequate supply of disposable plates, cups, eating utensils, and napkins. |
| Snacks and finger foods | Offer a mix of snacks and finger foods that cater to different tastes and age groups, such as mini sandwiches, cheese and crackers, fruit skewers, veggie sticks, and various dips. |
| Beverages | Provide both kid-friendly and adult beverage options like soft drinks, juices, water, coffee, hot cocoa, and a selection of alcoholic beverages for those of legal drinking age. |
| Main dishes | Plan a menu that includes main dishes to accommodate various dietary preferences and restrictions, such as vegetarian, vegan, gluten-free, or nut-free options. |
| Desserts | Prepare or purchase an assortment of holiday-themed desserts, such as cookies, cupcakes, pies, or a cake that everyone will enjoy. |
| Tablecloths and napkins | Don't forget to obtain tablecloths and napkins, either cloth or disposable, in colors and patterns appropriate for the holiday theme. |
| Chairs and seating | Ensure there is enough seating available for all guests by arranging chairs, cushions, or bean bags around the party area. |
| Games and activities | Plan engaging activities and games to keep everyone entertained, such as holiday-themed board games, crafts, or a holiday movie screening suitable for all ages. |
| Music | Create a playlist with festive tunes of various genres and eras to appeal to all guests and set the atmosphere for your holiday party. |
| Party favors | Organize take-home party favors for everyone to enjoy as a memento, such as seasonal chocolates, small scented candles, or personalized ornaments. |
| Prizes and props | If you have party games or activities planned, gather prizes and props beforehand, like small gifts, holiday-themed items, or gag gifts for the winners. |
| Camera and/or photo booth | Capture all the memorable moments of your holiday party by setting up a camera or DIY photo booth, complete with fun holiday-themed props. |
With a comprehensive checklist to guide your preparations, you can ensure that your holiday party will be an enjoyable and stress-free celebration for guests of all ages.
(Learn: A Complete List of Party Supplies)
Holiday Party Décor: Easy DIY Ideas for a Stunning Space
When it comes to holiday party decor, unleash your creativity with some do-it-yourself projects. Create your own snow globes using mason jars and holiday-themed figurines, fashion a centerpiece of Christmas tree ornaments atop a cake stand, or decorate plain candles with painted-on festive designs.
Another impressive DIY project is to fashion a garland using fresh evergreen branches for a refreshing fragrant touch. Combine the greenery with shiny ornaments or rustic pine cones to suit your taste. You can also craft beautiful wreaths using unconventional materials like twigs, ribbons, or burlap to give your gathering a one-of-a-kind look.
Festive Holiday Party Games and Icebreakers: Keep Guests Entertained
A party is nothing without games! Engage your guests with entertaining holiday-themed games and icebreakers to create lasting memories. How about a round of holiday-themed charades? Divide guests into teams and let the festive clues and guessing begin. Bingo is another fun choice: design your own cards with holiday icons and call the winning combinations.
Even a spin on the classic "Who Am I?" game can spark excitement: slap a festive character's name on each guest's back and let them mingle to gather hints on who they could be. It's a fabulous way to break the ice and create animated conversations.
Delectable Holiday Party Menus: Recipes for Kids, Teens, and Adults
Let's start with the all-important culinary centerpiece—an appealing holiday party menu that caters to the tastes of kids, teens, and adults alike. Whip up a variety of simple appetizers and finger foods like mini quiches, cocktail meatballs, and cheese-stuffed mushrooms to please the adults. For the younger attendees, consider serving smaller bites like mini chicken and waffle skewers, honey-glazed chicken nuggets, or sliced fruit arranged in fun Christmas shapes.
Cheers to the Holidays: Kid-Friendly and Adult Beverage Options
Raise a glass! Having a mix of both kid-friendly and adult beverage options will keep everyone's spirits high. Set up a hot cocoa bar with marshmallows and toppings for the young ones, and perhaps even some peppermint sticks for an extra special touch. Meanwhile, adults can relish some warm mulled wine or perhaps creamy eggnog jazzed up with a splash of brandy or rum.
Sweet Treats and Desserts: Holiday Party Favorites for All Ages
No holiday party is complete without indulging in a plethora of delicious desserts. Try your hand at baking gingerbread cookies, sugar cookies in festive shapes, or even a decadent Yule log to satisfy the sweet tooth at your event. Don't forget to include a holiday-themed dessert table where guests can help themselves to beautifully decorated cupcakes, fruit tarts, and a range of other mouth-watering selections.
Crafty Holiday Party Ideas: DIY Projects for Kids, Teens, and Adults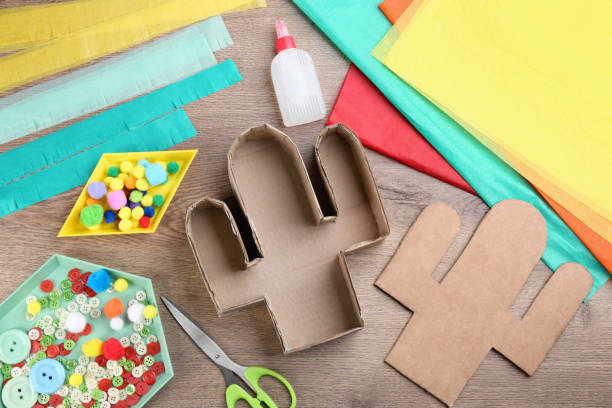 Invite guests to engage in creative DIY holiday projects that suit all age ranges. Set up craft stations for ornament making, where kids, teens, and adults can customize baubles, stars, or glass ornaments using paint, glitter, or beads. Another brilliant idea is to arrange a cookie-decorating workshop, where guests can frost and embellish cookies to their liking—a tasty activity bound to get everyone in a festive mood!
Gift-giving at Holiday Parties: Creative and Memorable Ideas for Everyone
Contemplate incorporating a little gift-giving magic to make your holiday party even more unforgettable. Draw together a Secret Santa event, where guests can exchange small gifts with one another, ensuring everyone receives a thoughtful surprise. You can also stage a fun White Elephant gift exchange game, where guests choose wrapped gifts and have the option to "steal" from one another—a friendly competition everyone is sure to enjoy!
Perfect Party Favors: Unique Keepsakes to Remember the Celebration
What better way to commemorate a fabulous holiday party than with some keepsake party favors? Customize hot cocoa mixes in mason jars, beautifully scented hand-crafted candles, or personalized ornaments for guests to take home. These party favors will leave a lasting impression, reminding your friends and family of the fabulous moments they shared at your holiday celebration.
Host a Stress-free Celebration: Expert Tips and Tricks for Successful Holiday Party Planning
Planning a fantastic holiday party doesn't have to be a headache. Start by selecting your theme, and then devise a fitting menu and activity lineup. Keep your guests entertained with holiday-themed games, have a variety of food options for different age groups, and plan some fun DIY group activities to encourage mingling.
Remember, the most important ingredient for an unforgettable holiday party is the warmth and hospitality you extend to every one of your guests. With these expert tips and tricks, you can create magical moments for everyone, ensuring a memorable holiday season that will be cherished for years to come.
Conclusion
Holiday parties are all about celebrating the spirit of giving, love, and joy. With these kid-friendly, teen-centric, and adult holiday party ideas, you'll create an unforgettable experience for all your guests. Whether you're hosting a family gathering or a casual get-together, follow these easy planning tips to ensure a fantastic and stress-free holiday celebration. Cheers to the most wonderful time of the year!