Bridal showers have remained a cherished tradition for centuries. They offer an avenue for loved ones to shower the bride-to-be with blessings, advice, and gifts that will equip her for married life. However, planning a bridal shower involves meticulous organization and attention to detail. This article provides the ultimate guide on how to plan a bridal shower, complete with a timeline, last-minute preparation tips, and efficient post-event cleanup strategies.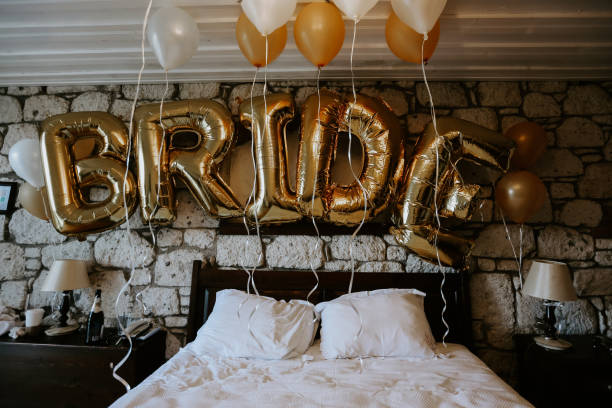 Why A Well-Executed Timeline is Essential for Planning Bridal Shower?
A well-executed timeline is essential for planning a bridal shower because it helps you stay organized, ensures all tasks are completed on time, and reduces stress. With a timeline, you can easily track your progress, prioritize tasks, and allocate resources effectively.
Time Management
A timeline helps ensure that all tasks and aspects for planning a bridal shower are planned and executed in a timely manner. It allows you to allocate sufficient time for each task, such as sending out invitations, booking the venue, planning the menu, and organizing activities, so that nothing is left to the last minute.
Effective Coordination
By having a timeline, you can coordinate with all the parties involved in the planning process, such as the bride, bridesmaids, vendors, and any other helpers. It allows everyone to be on the same page and ensures smooth communication and coordination throughout the planning process.
Avoiding Conflicts And Overlapping Events
A timeline helps you avoid scheduling conflicts by ensuring that the bridal shower doesn't coincide with other important events, such as the wedding rehearsal, the bride's dress fittings, or other pre-wedding activities. It allows you to plan the date and time of the shower carefully, taking into consideration the availability and convenience of the bride and guests.
Managing The Budget
Having a timeline helps you stay organized and keep track of your spending. By knowing when each task should be completed, you can allocate your budget more effectively and plan your expenses accordingly. It also allows you to prioritize the essential elements of the bridal shower and avoid overspending or last-minute splurges.
Minimizing Stress
Planning a bridal shower can be overwhelming, but a well-executed timeline helps alleviate stress. It provides structure and order to your planning process, allowing you to tackle one task at a time and stay focused on your goals. With a clear timeline, you can approach the planning process calmly and efficiently, ensuring a successful and enjoyable bridal shower for everyone involved.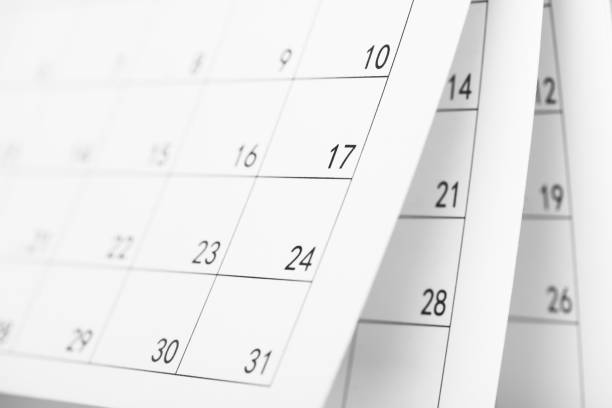 Timeline Example for Planning Bridal Shower
Let's look at a detailed timeline example illustrating how to plan a bridal shower.
6-8 Weeks Before The Bridal Shower:
Set The Date and Time for The Bridal Shower
When setting the shower date and time for the bridal shower, it's essential to consider several factors to ensure a successful and enjoyable event. By consulting with the bride and key guests, choosing an appropriate time of day, avoiding conflicts, and also checking the availability of the venue if you have a specific venue in mind. By allowing for a minimum gap between the shower and the wedding day, you can ensure a successful and enjoyable event. Remember, the goal is to create a special celebration where the bride can relax, have fun, and feel loved and supported by her friends and family.
Create A Guest List With The Help of The Bride
Consult with the bride to finalize the guest list. Remember, the bridal shower should be an intimate affair, attended by the bride's closest friends and family. Make sure all the guests at the bridal shower are invited to the wedding as well.
Decide on A Theme or Style for The Shower
Choosing a theme or style for a bridal shower can add an extra touch of excitement and personalization to the event. By considering the bride's interests, consulting with her, and researching popular theme ideas, you can find a theme that aligns with her taste and creates a memorable experience for everyone involved. It's important to not only match the theme to the venue but also incorporate it into the decorations, activities, and small details to create a cohesive and enjoyable atmosphere. By putting thought and effort into selecting a theme, you can ensure that the bridal shower is a special and unique occasion that celebrates the bride in a way that reflects her personality and style. (Blog: Trending Bridal Shower Theme Ideas)
Determine The Budget for The Event
Determining a budget for a bridal shower is an important step in the planning process. By considering factors such as guest count, venue costs, food and drinks, decorations and supplies, activities and entertainment, and other miscellaneous expenses, you can create a realistic and manageable budget.
Communicating openly with the bride and other decision-makers will ensure that everyone is on the same page and can make informed choices about how to allocate the budget. Remember that a memorable and enjoyable bridal shower can be achieved within any budget by prioritizing the bride's interests and creating a meaningful experience for the guests.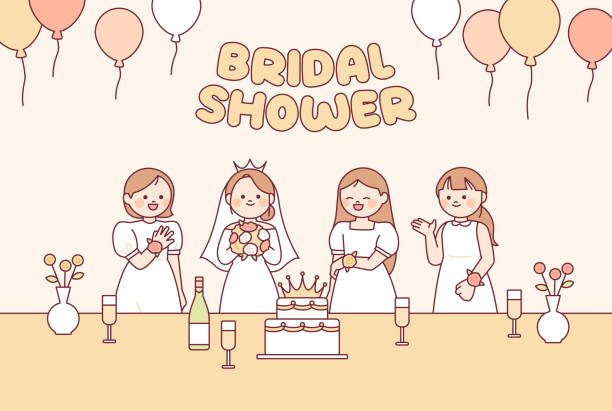 5-6 Weeks Before The Bridal Shower:
Order And Send Invitations
Ordering and sending bridal shower invitations for a bridal shower is an important part of the planning process. By carefully considering the guest list, choosing a suitable invitation style, finding a reputable vendor, customizing the invitations, sending them out in a timely manner, and tracking RSVPs, you can ensure that the bridal shower is well-attended and that guests have all the necessary information. Taking these steps will help set the tone for a memorable and enjoyable event for the bride and her guests.
Start Researching And Booking A Venue
Booking a bridal shower venue for a bridal shower involves careful planning and consideration. By determining your budget, estimating the number of guests, researching venues, visiting potential options, and comparing prices, you can find the perfect venue that meets your needs and fits within your budget. Remember to consider the location, amenities, and services provided by each venue, and don't forget to book early to secure your desired date.
To save on costs, consider asking family members or close friends if they can offer their homes for the event. Alternatively, depending on the season and guest list size, consider an outdoor venue like a local park or a private space at one of the bride's favorite restaurants.
Begin Gathering Ideas For Decorations, Games, And Activities
To begin gathering ideas for bridal shower decorations, games, and activities for the bridal shower, it's important to consider the bride's preferences and the overall theme or style of the event. After determining the bridal shower theme, here are some tips for show decor, shower games, and shower activities:
DIY or Pre-Made Decorations:
Decide whether you want to create your own centerpieces or purchase pre-made ones. DIY decorations can add a personal and unique touch to the event, while pre-made decorations can save time and effort.
Games And Activities:
Consider party games and activities that match the bride's personality and preferences. Classic options like bridal bingo, trivia, or a photo booth are always popular choices. Additionally, think about incorporating activities that can help guests get to know each other better and create memorable experiences.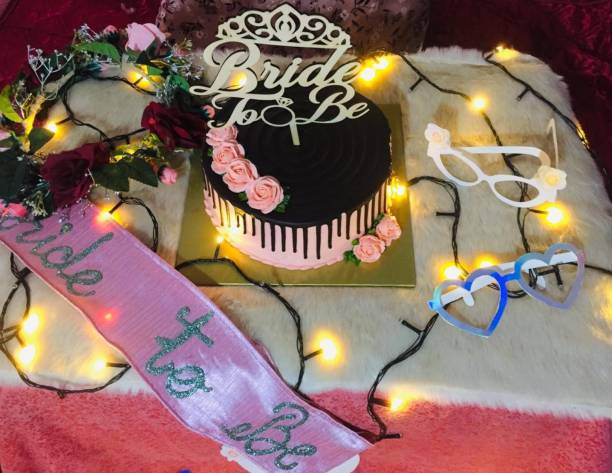 4-5 Weeks Before The Bridal Shower:
Start Planning The Menu And Drink Options
Planning the menu and drink options for the bridal shower is an exciting part of the preparation process. Here are some steps to help you get started:
Discuss Dietary Needs
Inquire with the guests if there are any dietary restrictions or allergies that need to be considered. This will ensure that you offer a variety of options that accommodate everyone's needs.
Choose A Variety of Dishes
Opt for a diverse menu that includes appetizers, main courses, side dishes, and desserts. Incorporate different flavors and textures to appeal to a broad range of tastes.
Consider Finger Foods or Small Bites
As bridal showers are typically social gatherings, go for bite-sized or finger foods that are easy to eat and mingle with. This can include mini sandwiches, canapés, sliders, or sushi rolls.
Offer A Mix of Vegetarian And Non-Vegetarian Options:
Ensure that your menu caters to both vegetarian and non-vegetarian guests. This can be achieved by having a mix of meat, poultry, fish, and vegetarian dishes.
Include Refreshing Beverages:
Apart from the usual soft drinks and water, consider offering a selection of refreshing beverages such as mocktails, fruit-infused water, or signature cocktails for those who wish to indulge.
Don't Forget About Desserts:
End the meal on a sweet note by including a variety of desserts like cupcakes, macarons, or a small cake.
Sample And Taste:
Before finalizing the menu, sample the dishes and beverages you plan to serve. This will ensure the overall quality and presentation meet your expectations.
Start Gathering Suppliers And Making Purchases
Organizing a bridal shower involves careful planning, research, and communication with suppliers and vendors. Remember to determine your needs for party supplies, research and compare options, seek recommendations, obtain quotes, confirm details, make purchases, and maintain open communication.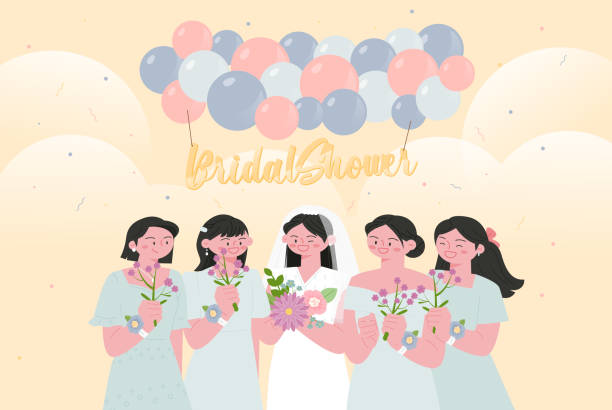 3-4 Weeks Before The Bridal Shower:
Delegate Tasks
Involving the bridesmaids in the bridal shower planning process can not only lighten your workload but also make it a more collaborative and enjoyable experience. Delegate specific tasks to each bridesmaid based on their strengths and interests, such as organizing decorations, coordinating games and activities, managing the guest list, or handling the finances.
Purchase or Order Any Necessary Party Favors or Prizes
when it comes to purchasing or ordering party favors or prizes for a bridal shower, it's important to consider your budget, theme, guest list, and personalization options. Shopping online or at local stores can offer a variety of options, and ordering in advance ensures that the items will arrive on time. While party favors or prizes are not necessary, they can add a special touch to the bridal shower and show appreciation to the guests. Remember to consider practicality and usefulness when selecting items, as this will ensure that they are enjoyed and not discarded. Ultimately, the decision to include party favors or prizes is based on personal preference and budget.
Plan Any Additional Entertainment or Activities for The Shower
When planning a bridal shower, it is important to not only think about party favors or prizes but also consider additional entertainment options to keep guests engaged and create a lively atmosphere. Bridal shower games, DIY stations, a photo booth or backdrop, advice or wishes cards, collaborative crafts or recipe activities, and a DIY cocktail/mocktail bar are all great ideas to entertain guests.
By incorporating these activities, you can create a fun and memorable bridal shower that will leave the bride and guests with lasting memories. Remember to personalize the activities to match the bride's interests and personality, and consider the preferences and comfort level of the guests.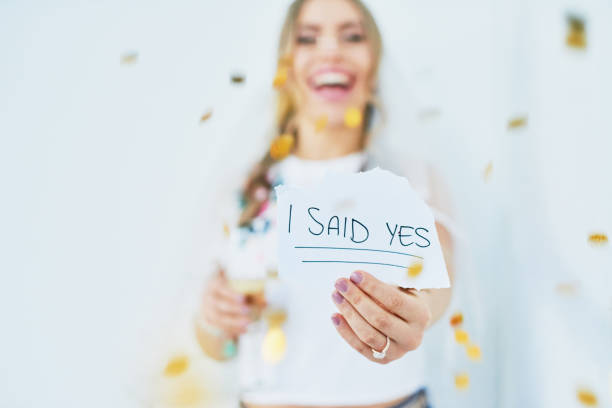 2-3 Weeks Before The Bridal Shower:
Follow up with guests who have not responded to invitations
Confirm any reservations or bookings for vendors, such as caterers, photographers, etc.
Prepare a final guest count for the venue and caterers
Purchase or prepare any additional decorations or supplies needed
1 Week Before The Party
Double-check that all the necessary supplies are on hand
Confirm any remaining arrangements with vendors or helpers
Create a final shopping checklist for any food or drink items needed
Review the timeline for the day of the bridal shower and make any necessary adjustments
Day of The Bridal Shower:
Morning
Set up the venue: Decorating the space, setting up tables and chairs, arranging the food and drink stations, and any other accessories, decorations, or props.
Delegate tasks: Assign specific tasks to bridesmaids or other helpers, such as setting up games, preparing the gift table, or managing the guestbook.
Mid-Morning/Early Afternoon
Welcome guests: Greet and welcome guests as they arrive, and direct them to sign the guestbook or drop off their gifts.
Serve refreshments: Begin serving drinks and any light refreshments or appetizers.
Activities and games
As guests continue to arrive, engage them in activities and games that have been planned for the bridal shower. Keep track of time to ensure that everything stays on schedule.
Lunch/Brunch
If a meal is part of the shower, serve the main course or buffet-style lunch/brunch to the guests. Coordinate with any caterers or food providers.
Gift opening
After the meal, it's time for the bride-to-be to open gifts. Allocate enough time for this activity, ensuring that everyone gets a chance to see the gifts and express their excitement.
Dessert and mingling
Serve dessert and allow time for guests to relax, chat, and enjoy each other's company. This is a great opportunity for the bride-to-be to mingle with her guests and thank them for attending.
After The Bridal Shower:
Send Thank-You Notes
sending thank-you notes to guests, assistants, and suppliers is a thoughtful way to express gratitude for their presence, assistance, and contributions to your event. Whether you choose to send handwritten notes or electronic messages, keeping them concise, and positive, and including a small token of appreciation can make the gesture even more special. Remember, sending thank-you notes is not only about showing gratitude but also about building and nurturing relationships. Your effort will not go unnoticed, and it will strengthen the bonds with those who contributed to the success of your event.
Clean up The Venue And Return Any Borrowed or Rented Items
Post-event cleanup is often overlooked in the planning process but is an essential part of how to plan a bridal shower. Delegate cleanup tasks among the bridal party. Remember to check with the venue about their cleanup policies and deadlines. Also, consider using disposable containers for food and drinks to minimize washing up.
Bridal Shower FAQs
| | |
| --- | --- |
| What is a bridal shower? | A bridal shower is a special pre-wedding celebration hosted in honor of the bride-to-be. It typically involves close family members and friends gathering to shower the bride with gifts, well wishes, and support. |
| Who organizes the bridal shower? | Traditionally, the bridal shower is planned and hosted by the maid of honor or bridesmaids. However, it can also be organized by close family members or friends of the bride. |
| When should the bridal shower be held? | The timing of the bridal shower can vary depending on personal preferences and schedule. It is usually held a few months before the wedding, allowing enough time for the bride to receive and use any gifts received. |
| Who should be invited to the bridal shower? | The guest list for the bridal shower usually includes close female friends and family members of the bride. However, it can also include male friends or co-ed showers, depending on the preferences of the bride and the hosts. |
| What happens at a bridal shower? | At a bridal shower, guests engage in various activities and games to celebrate the bride-to-be. There may be bridal shower gift openings, delicious food and drinks, and opportunities for guests to share special memories, advice, or well wishes for the couple. |
| What gift should I bring to a bridal shower? | Typically, guests bring gifts that are useful or meaningful for the bride-to-be as she prepares for married life. Common gift ideas include household items, kitchen appliances, personalized gifts, or items from the bride's registry. |
Conclusion
Throwing a bridal shower can be a fun and rewarding experience. With careful planning, organization, and a well-executed timeline, you can create a memorable event that the bride-to-be and guests will cherish. Remember, the goal of a bridal shower is to shower theThrowing bride with love, support, and gifts as she prepares for her big day. Happy planning!