What is a Party Theme
Ever scratch your head over why some get-togethers are just cooler? Here's a big clue: it's all about the "theme".
So, what exactly is a party theme? Think of it as the party's heartbeat, the core mood that sets the tone. Talking themes, they can be literally anything! Picture a "Harry Potter" shindig where everyone shows up in their wizard and witch outfits, or a "Halloween Party" fiesta with all its spooky thrills. Party theme ideas are what sprinkle that extra magic on any party.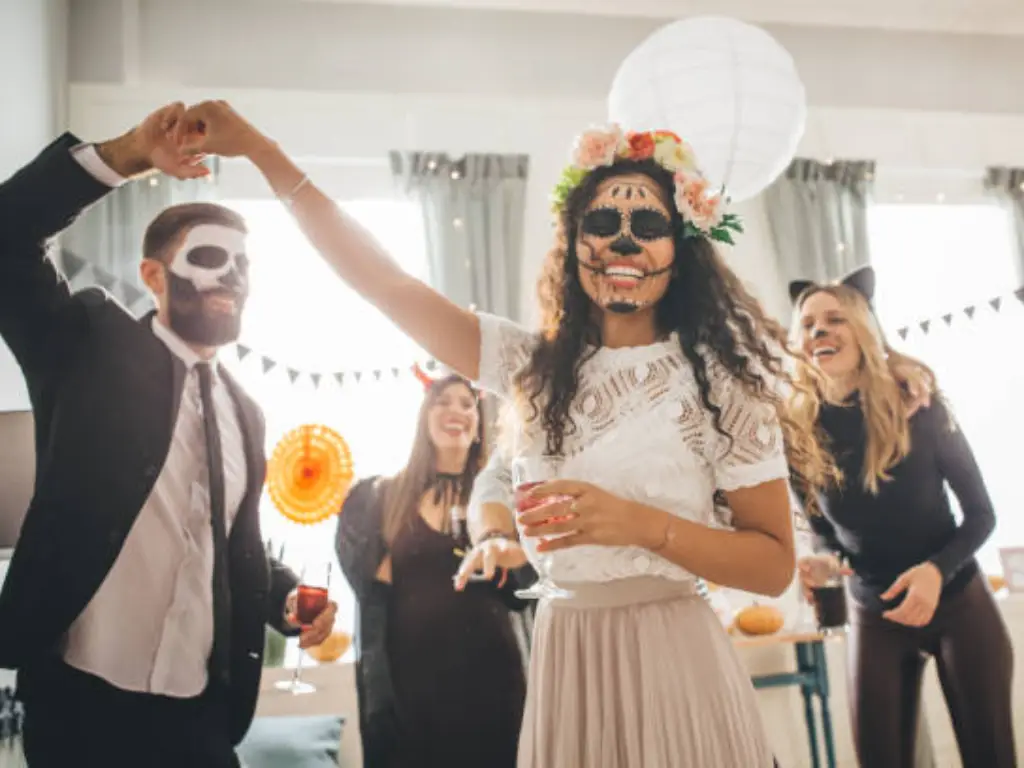 Why Go for Party Themes for Adults
Don't think of themes as just "extra fluff" for an adult bash. A perfect theme is the soul of the party. According to a survey by Eventbrite in 2021, 78% of event-goers expressed that a unique theme significantly enhanced their overall experience and engagement at the party. So, next time you're throwing a shindig such as a birthday party, grab a kickass theme and watch the difference it makes. Let's unpack why a perfect theme can totally transform a party.
Planning's a Breeze: Ever tried setting up a bash without a clear idea? Tough, right? But throw in a theme and, boom, everything's clearer. You'll know the perfect decor, food, and tunes. Everything just jives.
Exciting Invitations: Send out invites matching your theme and watch your friends buzz with excitement. They know this isn't just any old party—it's gonna be a blast!
Awesome Outfits: One of the best parts of themed parties is seeing what everyone wears. Some people get very creative with their costumes. It's like you're not just going to a party. You're going to a whole different world where everyone becomes a part of the story the theme has created.
Breaking the Ice: Ever been to a party where half the guests are basically strangers? Themes kill that initial awkwardness. Cool costumes and theme games get folks chatting. "Hey, awesome outfit!" and there you have it—strangers turned party friends.
Unforgettable Memories: Regular parties are nice, but they can also be easy to forget. With a great theme, you're crafting legendary memories like that epic "Pirates vs. Ninjas" bash or the "Galactic Warriors" night. Bet everyone's snapping pics to remember the good vibes.
Classic Party Themes for Timeless Celebrations
Casino Night
Casino Night is a timeless theme rooted in the allure of glitzy Las Vegas and iconic gambling cities like Monaco. Traditionally, it is geared towards adults who enjoy the thrill of games like poker, blackjack, and roulette.
For those unfamiliar with the Casino Night theme, think elegant and glamorous. Males typically wear suits or tuxedos, while females don dresses, akin to what one might see on a James Bond film set. Decorations include green felt game tables, board games, chips, and sometimes even slot machines, which give guests a feeling of game night and a great time. It's a great way to have party games that attendees can participate in, perhaps even incorporating play money for fun. Compared to a typical party, the Casino Night requires 15% more investment in decorations and games but promises an unforgettable experience.
Great Gatsby and Roaring Twenties
The Great Gatsby and Roaring Twenties theme is inspired by the 1920s, a decade of jazz, flappers, and prohibition. The book "The Great Gatsby" by F. Scott Fitzgerald perfectly encapsulates this era. This theme best suits adults who have a penchant for historical periods, luxury, and glamour. Interestingly, when the 2013 movie adaptation was released, there was a 25% increase in 1920s-themed parties compared to the previous year.
If you're wondering about the Roaring Twenties theme, picture glitz and glamour. Men can don sharp suits with vests, bowties, and fedoras. Women can embrace the flapper look with fringe dresses, pearls, and feathered headbands. Decorations should exude opulence – think gold accents, art deco patterns, and vintage props like gramophones. Pro-tip: Adding jazz music will instantly transport guests to this golden era, making it a great idea for a themed party. While the attire might be 20% more intricate than contemporary party wear, the immersive experience is worth the effort.
Outdoor and Seasonal Party Themes
Garden Party
The Garden Party theme has its roots in European aristocracy. Traditionally, these parties were organized by the elites to celebrate the blossoming of spring and summer seasons, and they were seen as a show of wealth and power. Nowadays, the Garden Party has been adapted to fit a broader audience. According to a recent survey, 60% of adults express interest in having a garden-themed event, particularly in spring and early summer.
If the Garden Party thing is new to you, picture a posh picnic outdoors. For the ladies, how about some flowy and fancy dresses with comfy shoes? And the gents, light suits are the way to go. Decorating? Think flowers everywhere, maybe some fairy lights, and if you're feeling extra, a little fountain. Keep it chill, fresh, and classy.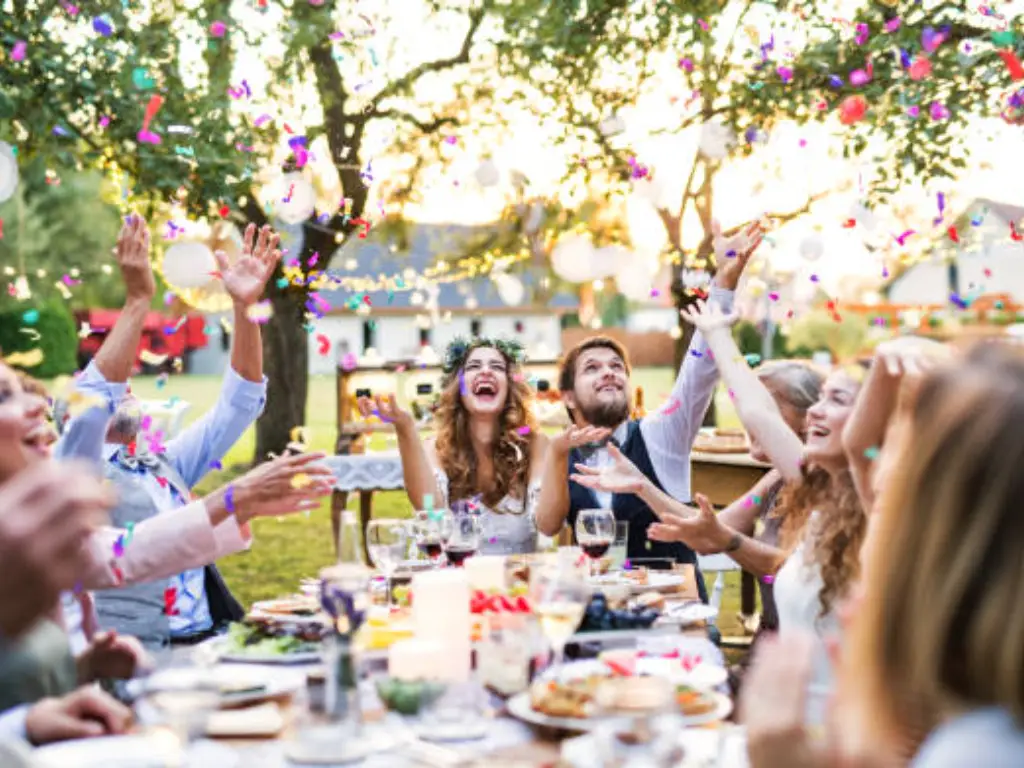 Winter Wonderland
Winter Wonderland is an enchanting theme that draws its inspiration from the serenity and magic of a snow-covered landscape. Originally, it was popular in regions that experienced heavy snowfall, symbolizing the beauty of winter. Recent data indicates that about 50% of event planners report an increase in demand for Winter Wonderland themes, especially during the winter season and for end-of-the-year parties.
Scratching your head over a Winter Wonderland do? Imagine everything draped in white with sparkly lights everywhere. Dress wise? Think cozy but stylish in icy colors. As for setting the scene, throw in some fake snow, glittering lights, and if you're up for it, ice statues. Warm drinks like cocoa or spiced wine? Perfect touch and a great excuse to have a cozy snow day party. It'll feel like you're in a winter fairy tale, and guests won't stop talking about it.
Cultural and Regional Themes
Taco Fiesta
Diving deep into the Taco Fiesta, it's a celebration that stems directly from the exuberant spirit of Mexican culture, putting a spotlight on their incredibly rich food heritage. Tacos, which are undeniably huge in Mexico, have steadily and impressively become the very soul of this upbeat celebration. And here's an eyebrow-raising fun fact for you: every year, people over in the U.S. can't help but chow down on an astounding 4.5 billion tacos. This just goes to show how this humble dish has managed to captivate hearts and taste buds way beyond its Mexican roots.
Are you toying with the idea of hosting a Taco Fiesta for your adult buddies? It's a stellar pick, especially for those gastronomic enthusiasts (a.k.a foodies) and anyone who's up for a vibe that screams "fun". Wondering about the dress code? Think bold and vibrant colors with hints of authentic Mexican flair or if you're all about comfort, just chill and rock those casuals. When it comes to setting the right party mood, lively table covers paired with quirky cactus decor pieces and bright colors do the trick. And let's not forget, at a Taco Fiesta, tacos are the undeniable superstar! Offering a mix is key: about 60% meaty options like sumptuous beef or juicy chicken and a 40% of delightful green options. And to add the cherry on top, serve it with some tangy salsa, creamy guac, and if you're feeling a tad bit adventurous, perhaps even set up a margarita corner to make it a memorable dinner party. Let the good times roll.
Hawaiian Luau
When we talk about the Hawaiian Luau, we're basically delving into a tradition deeply embedded in the rich tapestry of the Hawaiian Islands' culture. Back in the old days, this was primarily a grand feast set up to pay respects and homage to the revered Hawaiian deities. But time has a way of evolving traditions, and now, luaus have catapulted to global fame. Just to paint a picture of its immense popularity: a staggering 8.2 million tourists made their way to the sandy shores of Hawaii back in 2019. Among them, a significant number joyfully participated in the festive luau scenes.
If you've got a Hawaiian Luau in mind for your upcoming adult gathering, let me tell you, you're on the right track. It's the dream theme for those who fancy a vibe that's both tropical and laid-back. About Guests' decor – tiki torches are an absolute must-have, along with those fragrant island flowers setting the perfect island ambiance. And here's a nugget of wisdom for you: during the sultry summer months, pineapple sales see a spike, soaring by around 15%. With that in mind, it's a smart move to feature some pineapple-infused treats or refreshing drinks to invite guests over. Trust me, you'll earn some major hosting brownie points! And finally, to seal the deal, play some lilting island melodies, and witness the magic as everyone gets swept up in the infectious Aloha vibes.
Fun and Whimsical Party Themes
Rainbow Party
Rainbow parties are a blast, bringing the magic of colors into the mix. Rainbows, a universal symbol of joy and wonder, are a hot trend in the party scene. Check this out: a 2020 survey found that 65% of party planners saw a rise in color-themed shindigs, with rainbows stealing the show.
Hosting a Rainbow Party for adults is a great option. It's a winner for those who adore a burst of colors. What better way to celebrate Pride than with a rainbow party? Encourage guests to wear either one solid rainbow color or come dressed in rainbow clothing. For setting the scene, go wild with colorful balloons and streamers. Here's a sweet idea: Create a snack bar with treats that cover every color of the rainbow. It's a feast for both the eyes and the taste buds.
Zombie Apocalypse
Zombie Apocalypse parties are riding the wave of zombie crazes in movies and TV shows. It's a heart-pounding theme that's catching fire. Here's a spooky stat: Zombie bashes jumped by 20% in 2019 compared to the year before.
Planning a Zombie Apocalypse bash for adults? It's a hit for those who crave a dash of adrenaline. Costume ideas? Think ragged clothes, ghostly makeup, and a splash of fake blood for that zombie vibe. For the decor, think creepy: dim lights and fog machines to get that eerie atmosphere. And for munchies? How about some brain-like jellies or blood-red drinks? But remember, it's all about having a ghoulishly good time.
Elegant and Sophisticated Themes
Red Carpet Hollywood
Hollywood's Red Carpet affairs kicked off with ritzy movie openings back in the 1920s. It's all about oozing elegance and a heavy dose of glam, catching the eyes of the high-fliers who want their events sprinkled with some Hollywood magic. Get this: A 2019 poll showed that a whopping 60% of top-tier company gatherings leaned towards the timeless charm of old Hollywood. Yes, the allure is still alive and kicking!
So, diving into the Red Carpet vibe means stepping into a world dazzled by bright lights, flashing cameras, and folks pretending they're movie stars for the night. It's all about rolling out that iconic red carpet, flanking it with glitzy gold poles and velvet ropes, and setting up some Hollywood-inspired scenes. Dress to impress is the name of the game here- elegant dresses for the ladies and swanky suits or tuxes for the gents. "Party Trends 2022" spilled the beans: about 70% of party-goers really get into the groove when there's a dress code in play.
Masquerade Ball
The Masquerade Ball – it's like stepping into a 16th-century Venetian time capsule. It's wrapped in mystery and romance, making hearts race and imaginations run wild. Check out this sizzle: party goods in this theme saw a skyrocketing 25% uptick in sales last year. It's a big hit for those who fancy blending secrecy with a dash of refined charm in their shindigs.
Picture this: a room shimmering with chandeliers, tables flickering with candlelight, and everyone hiding behind lavish masks. It's about setting the scene with enchanting lights, luxurious decorations, and masks that steal the show. The wardrobe is all about turning heads-think plush dresses, crisp suits, and captivating cloaks. And here's a juicy tidbit from a 2021 event scoop: masks are the crown jewels, making a massive 80% difference in ramping up the event's mystery and allure.
Creative and Crafty Party Ideas
Craft Party
Back in the day, residents in towns would meet up and swap crafty ideas. "Crafters United" did some digging and found out that 60% of adults think crafting is a cool way to take a break from screens. This kind of bash is spot on for those who love getting their hands dirty, showing off their artsy side, and diving into DIY stuff.
When you step into a craft party, you'll see tables covered with all sorts of fun stuff like colorful papers, shiny beads, and cool fabrics. Everyone gets to make their own bling, try out some painting, or even dabble in making stuff with fabric. It's a good idea to wear something chill, and slapping on an apron can save your outfit from any mess. The place should be decked out with crafting gear, bright ribbons, and some cozy lights to set the mood. And having some craft samples around can give folks some neat ideas.
Karaoke Night
Karaoke party, a fun theme from Japan where you sing along to tunes. Some big study named "Global Karaoke Scene" spilled that a solid 70% of adults are all about that karaoke life. It's a total mood booster and a way to let loose. This gig's for those who are all about the beats, want to show off their pipes, or just feel like jamming to some tunes.
At a karaoke bash, you'll usually find a stage lit up, screens showing the words, and a bunch of peeps waiting for their turn at the mic. You can rock up in your everyday gear or even dress up like your fave singer. The place should have some music vibes with notes, shiny disco balls, and maybe even a fancy red walkway leading up to where you sing. And don't forget, a mix of songs and some killer speakers are key to make sure everyone's having a blast, making it a perfect idea for a bachelorette party or New Year's Eve party.
Party Favors Ideas for Different Adult Party Themes
When you are planning a themed party for adults, adding party favors is an excellent touch to ensure that the event is memorable for all your guests. These little gifts, matched with the theme of the party, can capture the essence of the celebration and leave a lasting impression. Moreover, creative packaging can elevate these gifts to a whole new level, making them not only a fun keepsake but also a crucial aspect of party planning. Below, we provide a comprehensive list of party favor ideas that are suitable for various themes, and we also offer suggestions for imaginative packaging that will surely wow your attendees:
Party Theme
Party Favor Ideas
Gift Box & Packagings
Casino Night
Playing cards
Poker chips
Mini slot machines
Gold-tinted boxes with dice stickers
Great Gatsby and Roaring Twenties
Feather boas
Pearl necklaces
Flapper headbands
Vintage boxes with art deco designs
Garden Party
Seeds packets
Mini potted plants
Flower crowns
Green bags with floral ties
Winter Wonderland
Snow globes
Mittens
Hot cocoa mix
Silver boxes with snowflake ribbons
Taco Fiesta
Mini hot sauce bottles
Sombrero keychains
Colorful pouches with chili pepper tags
Hawaiian Luau
Lei necklaces
Mini tiki torches
Coconut cups
Tropical designed boxes with palm leaf ties
Rainbow Party
Multicolored bracelets
Rainbow stickers
Transparent bags with rainbow ribbons
Zombie Apocalypse
Fake blood
Mini brain toys
Zombie masks
Dark bags with "Biohazard" stickers
Red Carpet Hollywood
Mini Oscar statues
Clapperboards
Black velvet pouches with star tags
Masquerade Ball
Masks
Feather pens
Velvet boxes with golden masquerade mask tags
Craft Party
DIY craft kits
Hand-painted mugs
Craft paper boxes with colorful ribbons
Karaoke Night
Microphone keychains
CD mix of party songs
Musical note printed pouches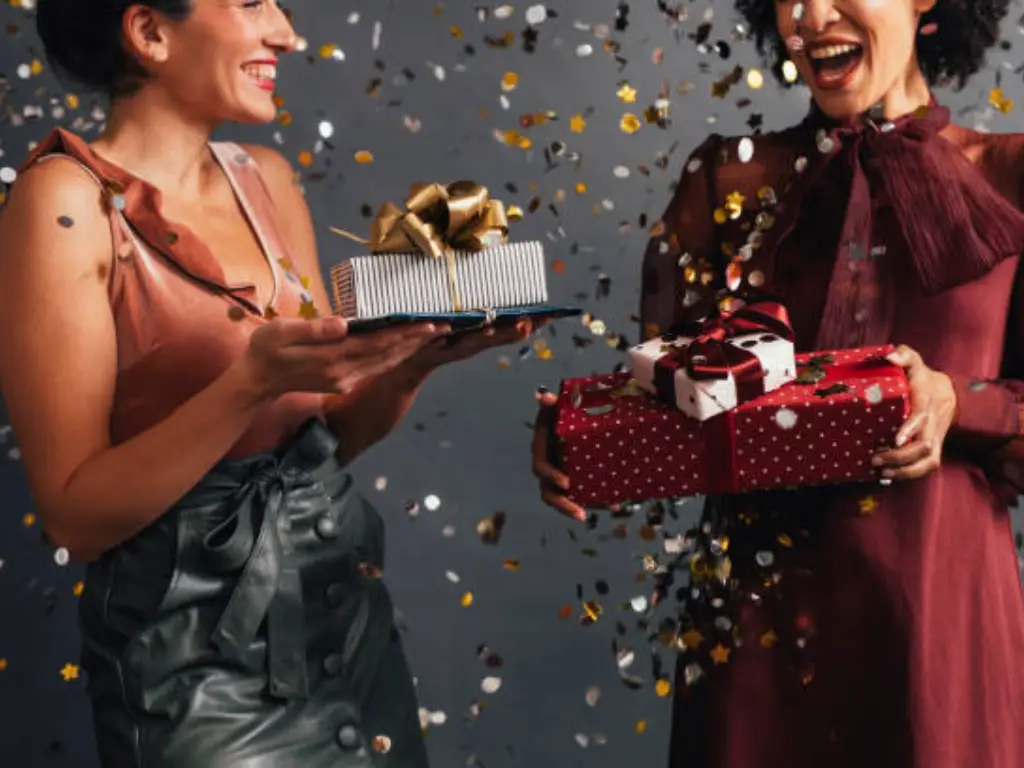 Partnering with Nicro: Your One-Stop Shop for Party Supplies
10 Years of Experience
A decade isn't just about time passing; it's about the sweat, the hurdles, and the cool stuff we've brought to the table. At the core of Nicro's journey, you'll find our big 6000㎡ factory, which is where our awesome ideas come to life. With 12 cutting-edge production lines rocking this place, we've mixed old-school ways with the latest tech. And the whopping annual production of 30-50 million pieces? Well, it's proof of how big we've become and how much folks trust what we do.
Customized Designs for Adult Themes
Every party has its own vibe, right? So, generic stuff won't cut it. It needs a special touch, a feel for what you really want. That's where our rockstar designers come in. Using their bag of creative tricks, they dive into what you're thinking, piecing things together to give you designs that don't just look good but feel just right. We're talking about vibes here, making each bash truly yours.
A Wide Range of Products
Life's full of different shindigs, each with its own flair. That's what Nicro's about. Walk through our range and you'll see everything – whether it's for a cozy dinner for your anniversary, a full-blown milestone birthday bash, those sweet baby showers, or the big cap-and-gown day. Every piece, every item, is all about capturing the feels of these moments.
Uncompromised Quality
Here at Nicro, when we talk about quality, it's not just another word in our dictionary; it's our pledge, our commitment. Every product that rolls out is put through its paces, undergoing rigorous checks to ensure it's up to the mark. So, when you choose Nicro, know that you're not just getting a product; you're getting a promise of excellence, a badge of top-tier quality that stands out in any crowd.
Conclusion
Planning an adult party might initially seem like a daunting task, akin to climbing Everest. Remember, every successful ascent—and in this case, every great party—begins with a foundational idea. From the timeless allure of a Casino Night to the lively ambiance of a Taco Fiesta, there exists a perfect party theme for every celebration. When brainstorming about a party venue, the chosen theme becomes instrumental. For example, a Garden Party effortlessly directs you towards an alfresco setting, perhaps in your own backyard or a quaint local park. Conversely, a Winter Wonderland theme beckons the magic of a snow-kissed indoor space.
Moreover, it's worth noting that statistics highlight a compelling fact: 78% of parties rooted in a unique theme remain etched in memories far longer than their generic counterparts. Themed parties not only present a fun way to revel but also gift attendees with unparalleled experiences, stories of which they'll likely recount for years to come. And speaking of gifts, the value of thematic party favors shouldn't be underestimated. Envision the joy when attendees at a Hawaiian Luau are draped with fragrant floral leis or when guests at a Masquerade Ball are presented with ornate masks, serving as cherished mementos.
But the beauty of these parties isn't just in choosing an arresting theme. It's in the meticulous integration of that theme throughout the party's essence. Take a Rainbow Party, for instance. It isn't merely about an explosion of hues in decorations; it encapsulates the very spirit of diversity, mirrored in vibrant dishes and drinks. Similarly, a Red Carpet Hollywood soiree isn't just about glamour—it's an invitation for every guest to shine, to feel celebrated. This underscores the essence of a theme, how it's not just a label, but an atmosphere that permeates every layer of the celebration.
In short, whether you're orchestrating a birthday bash or simply curating a memorable evening among friends, the mantra remains consistent: opt for a theme that echoes with your sensibilities and those of your guests. Collaborating with seasoned professionals, such as Nicro, guarantees that every thematic nuance is catered to. So, gear up to host an unforgettable soirée, bask in unbridled fun, and weave memories adorned with unique and polished thematic touches.