College graduation, high school graduation… Graduation is a significant milestone in anyone's life, and this big day deserves a memorable celebration. The right graduation party decoration ideas can set the tone for an unforgettable event, transforming your space and creating the perfect atmosphere for your party guests to celebrate your achievements. In this article, we have compiled a list of unique and creative graduation decorations that will help you create an extra special event that you and your guests will never forget.
Create a Festive Atmosphere with Balloon Decorations
One of the most popular graduation party decoration ideas is to use balloons. Balloons are an affordable and versatile decoration option that can instantly add a festive touch to any space. Here are some graduation party decoration ideas for using balloons:
Graduation year balloons:
Use a large number of balloons to represent the graduation year, and place them in a prominent location at your party, such as the entrance or near the dessert table.
Balloon garlands:
Create eye-catching balloon garlands using a mix of different-sized balloons and colors that match your party theme or school colors. You can drape these garlands across the ceiling, along walls, or around the party area.
Balloon centerpieces:
Use helium-filled balloons as the table centerpieces, attaching them to a weight and tying ribbons of various lengths to create a whimsical effect.
Balloon photo backdrop:
Create a fun photo backdrop by using balloons to form a wall or backdrop for guests to take pictures in front of.
DIY Graduation Party Decoration Ideas
Adding a personal touch to your graduation party decorations can make your celebration even more special. Here are some DIY graduation party decoration ideas that you can try:
Photo displays:
Create a photo display of your graduate's journey through the years, from their first day of school to their graduation day. You can use picture frames, and clothespins, or even create a digital slideshow to showcase these memories.
Memory jar:
Set up a memory jar where guests can write down their favorite memories with the graduate or offer advice for their future endeavors. This can make for a touching keepsake for the graduate to cherish later.
Custom banners:
Design and create your own custom photo banner featuring the graduate's name, school colors, or even their favorite things.
Graduation cap decorations:
Encourage your graduate to personalize their graduation cap with decorations that reflect their personality, interests, or future plans.
Add Some Sparkle with String Lights and Glitter
Sparkles are the perfect addition to your graduation party decorations and can create a magical atmosphere for your celebration. Here are some graduation party decoration ideas for incorporating sparkle into your grad party decor:
String lights:
Drape string lights across your party area, around trees, or along walls to create a warm and inviting ambiance.
Glitter tablecloths:
Use glittery or metallic tablecloths to add a touch of glamour to your party tables.
Sequin or glitter accents:
Incorporate sequin or glitter accents into your party decorations, such as table runners, banners, or even your dessert display.
Show Your School Spirit: Incorporate Your School Colors
Incorporating your school colors as the color scheme into your graduation party decoration ideas, this is an easy way to help create a cohesive graduation theme. Some ways to incorporate school colors include:
Table settings:
Use tablecloths, napkins, plates, and cups in your school colors to create a coordinated look for your party.
Balloons:
Choose balloons in your school colors to create balloon garlands, centerpieces, or other decorations.
Floral arrangements:
Incorporate flowers in your school colors into your centerpieces or other decorative displays.
Party favors:
Choose party favors that reflect your school colors, such as candy, personalized items, or small gifts.
Graduation Cap and Gown Decor: Creative Ways to Display Them
Your graduation cap and gown are symbols of your achievement and can be used as unique graduation party decoration ideas. Here are some creative ways to display them at your party:
Cap and gown centerpiece:
Use your cap and gown as a centerpiece on a table or hang them on a wall as a focal point.
Graduation cap garland:
String together several graduation caps with ribbon or twine to create a festive garland.
Mini cap and gown favors:
Create mini graduation caps and gowns using paper or fabric, and use them as table decorations or party favors.
Photo Booth Fun: Set Up a Memorable Graduation Party Activity
A photo booth is a fun way and interactive activity that can also double as a graduation party decoration. Here are some graduation party decoration ideas for setting up a photo booth at your graduation party:
Backdrop:
Create a backdrop using balloons, fabric, or even a chalkboard wall where guests can write messages for the graduate.
Props:
Provide a variety of props for guests to use in their photos, such as graduation caps, oversized glasses, or signs with fun phrases.
Polaroid or Instax camera:
Supply a Polaroid or Instax camera for guests to take instant photos as keepsakes of the event.
Hashtag:
Create a unique hashtag for your graduation party, and encourage guests to share their photos on social media using the hashtag.
Edible Decorations: Treats and Sweets for a Delicious Celebration
Incorporating edible decorations into your graduation party can add a fun and delicious element to your celebration. Here are some edible graduation party decoration ideas:
Graduation cap cookies:
Bake cookies shaped like graduation caps and decorate them with icing in your school colors.
Diploma treats:
Wrap treats like candy bars or fruit roll-ups in paper and tie them with ribbon to resemble diplomas.
Themed dessert table:
Set up a dessert table featuring treats in your school colors or shaped like graduation-related items, such as caps, diplomas, or even the graduate's future college or university logo.
Candy buffet:
Create a candy bar with treats in your school colors or featuring the graduate's favorite candies.
Personalized custom cupcakes:
Custom personalized cupcake picks with picture of the grad as cupcake toppers.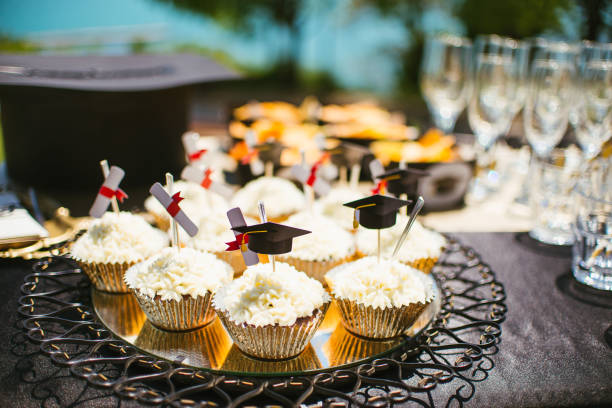 Outdoor Graduation Party Decoration Ideas
If you're planning an outdoor graduation party, there are plenty of creative graduation party decoration ideas that can help you transform your backyard into a festive celebration space. Here are some outdoor graduation party decoration ideas: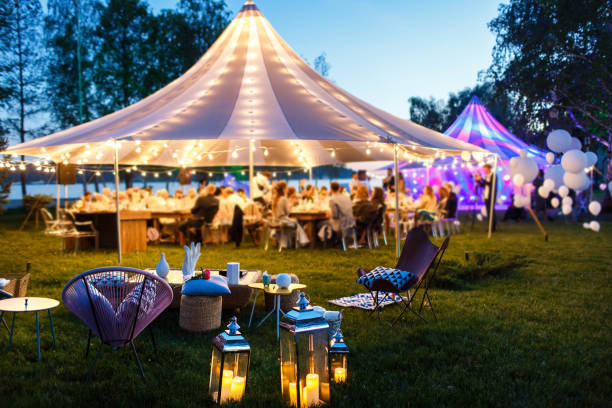 Tent or canopy:
Set up a tent or canopy to provide shade and shelter for your guests.
Outdoor seating:
Arrange comfortable outdoor seating options, such as lounge chairs, picnic tables, or even hay bales covered with blankets.
Lawn games:
Set up lawn games like cornhole, horseshoes, or even giant Jenga for guests to enjoy during the party.
Outdoor lighting:
Use string lights, lanterns, or even tiki torches to create a warm and inviting atmosphere for your outdoor graduation party.
Graduation Party Favors: Ideas for Thoughtful and Memorable Gifts
Thank your guests for attending your graduation party with thoughtful and memorable party favors. Here are some graduation party decoration ideas for graduation party favors:
Personalized items:
Give guests personalized items, such as keychains, koozies, or even engraved pens, featuring the graduate's name or the party date.
Photo souvenirs:
Provide a photo booth or a Polaroid camera and encourage guests to take photos as a keepsake of the event.
DIY gifts:
Create DIY gifts, such as homemade candles, bath salts, or cookies, packaged in a cute container with a personalized label.
Themed treats:
Offer guests themed treats, such as candy in your school colors or custom cookies shaped like graduation caps or diplomas.
Music and Entertainment: Set the Tone for Your Graduation Party
Music and entertainment are essential elements of any successful party, and your graduation celebration is no exception. Here are some graduation party ideas for incorporating music and entertainment into your graduation party:
Playlist:
Create a playlist featuring the graduate's favorite songs, hits from their graduation year, or even songs that hold special memories for them.
Live music:
Hire a local band, DJ, or even a solo artist to perform live music at your graduation party.
Karaoke:
Set up a karaoke machine and encourage guests to show off their singing skills.
Dance floor:
Create a designated dance floor area where guests can dance and celebrate throughout the party.
What are the Graduation Party Decoration Trends for 2023?
As you plan your graduation party, keep an eye out for emerging trends in party decorations for graduation. Some trends to watch for in 2023 may include:
Bold color schemes:
Move beyond traditional school colors and opt for bold, vibrant color schemes that reflect the graduate's personality.
Sustainable and eco-friendly decorations:
Incorporate sustainable and eco-friendly materials into your party decorations, such as reusable or biodegradable tableware, recycled paper products, or even live plants as centerpieces.
Interactive and experiential elements:
Focus on creating an engaging and memorable experience for your guests by incorporating interactive and experiential elements, such as DIY food stations, immersive photo backdrops, or even virtual reality experiences.
Where can I find reliable suppliers for my party supply business?
For the past 10 years, Nicro has been making custom party decorations and supplies for all kinds of events. Nicro is a specialized company that makes high quality handmade products like banners, garlands, lanterns, and other decorations for festivals, birthdays, weddings, and more.
Nicro has the experience and ability to create great party decor for any theme you want. Our talented designers can make unique pieces to turn your place into an amazing space that matches your special vision. Whether you want something fun, rustic, bohemian or formal, Nicro will work directly with you to bring your party theme to life.
Nicro makes high-quality decorations using popular styles, shapes and materials tailored to the big trends of party decoration. In addition to our custom design services, we also offer pre-designed decor and supplies for different themed parties.
Contact Nicro to Get Graduation Party Supplies Now!
Conclusion
In conclusion, your graduation party decorations should reflect your personality, style, and achievements. With these top graduation party decoration ideas, you can create a memorable celebration that truly captures the essence of your special day. (Learn: 39 Trending Party Decoration Ideas for Any Occasion)